ART CAPITAL – LE SALON COMPARAISONS – Grand Palais Ephemeral – Champs de Mars, Eiffel Tower – France
• International contemporary art fair in Paris
• From February 15 to 19, 2023
• Opening by invitation on February 14th from 3pm to 10pm
For the 5th consecutive year, Florence Lemiegre is one of the artists invited by the sculptor William Noblet, head of the "plural sculpture" group at the ART CAPITAL Comparaisons show in Paris. This year, the artist will present a work from her Noli me tangere universe, the "Noli me tangere Pistils Candidus piscus", a glazed sculpture in red earthenware from Normandy.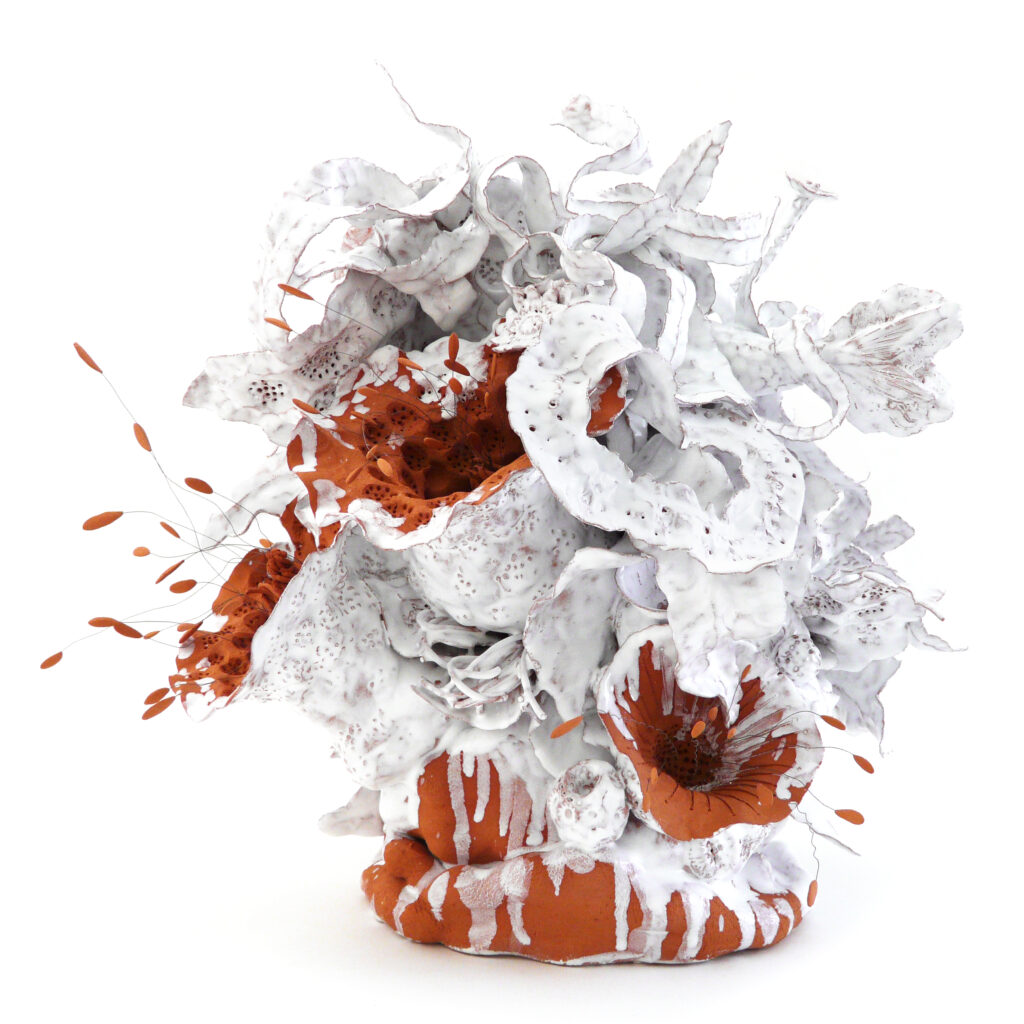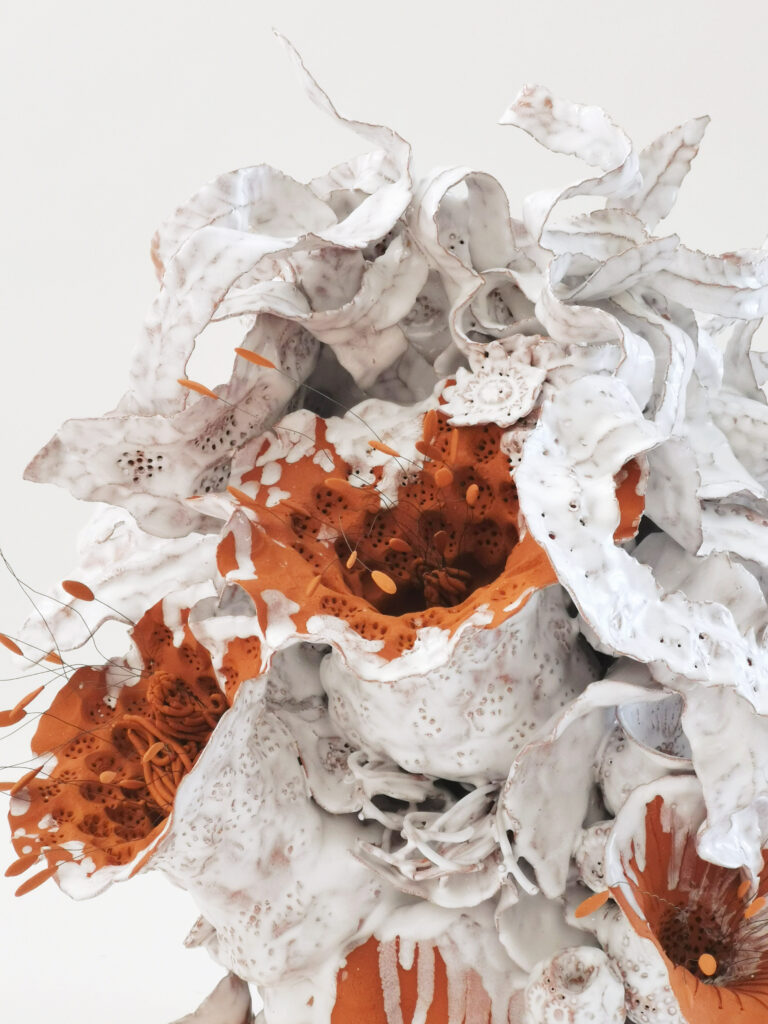 Plural sculpture group:
"True creation is free of all dogma, necessarily multiple. It is worthy of interest when it is demanding, free and singular. Beyond originality, the strength of a work is in its uniqueness. Thus, Sculpture Plurielle brings together expressions that have in common a demanding research, plastic qualities, originality and independence. If abstraction is dominant, it is not set up as an absolute dogma".
William NOBLET, sculptor and leader of the group " Sculpture plurielle ".
For 5 days, the ART CAPITAL fair is an artistic event that brings together approximately 40,000 visitors around works of contemporary art exhibited by 2,500 artists from around the world.
This year, due to the works, the Grand Palais Éphémère, a temporary building of 10,000 m2, supported by the Réunion des musées nationaux – Grand Palais and Paris 2024, will be installed on the Champ-de-Mars at the beginning of 2021 and until the end of the Olympic and Paralympic Games Paris 2024. It was inaugurated on June 12, 2021 and designed by the Wilmotte & Associés agency and produced by the GL events company. Installed on the Joffre plateau of the Champ-de-Mars, the Grand Palais Ephémère, a true architectural feat, is part of the history of this site, reactivating the place it held during the great Universal Exhibitions of the 19th and early 20th centuries. The architectural design of the curved double vaulted structure gives the building a typology on the scale of the Champ-de-Mars and fits perfectly into this prestigious site.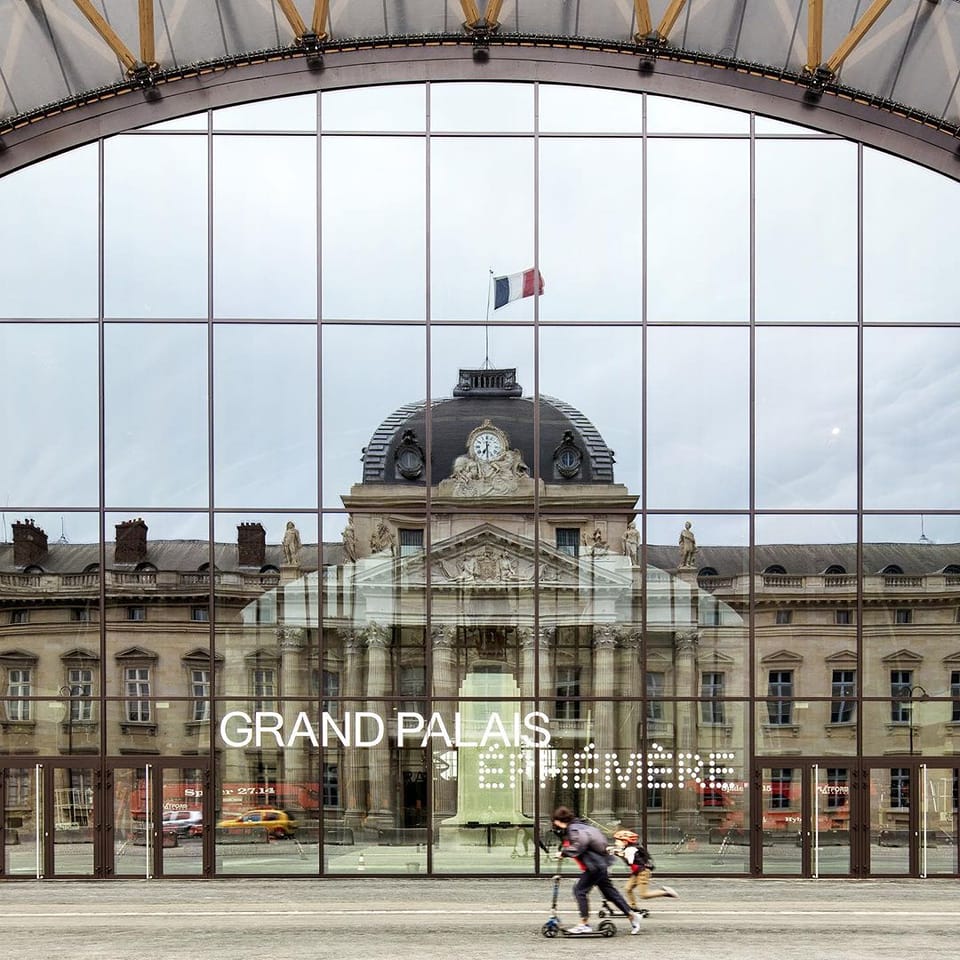 A little history :
Art Capital was born in 2006 from the desire of the so-called "historic salons of the Grand Palais" and artists from different backgrounds to play on their differences, to join forces to create a federative and new event within the framework of the historic return of these salons to the Grand Palais. The five historic Parisian art fairs are united under the name of Art Capital: Les Artistes Français, Les Artistes Indépendants, Comparaisons, Dessin et Peinture à l'eau and La Nationale des Beaux-Arts.
Comparaisons presents its 31 groups, corresponding to as many sensitivities or trends in current art.
Art Capital – Comparaisons 2023
Grand Palais Ephemeral
• Exhibition open to the public from Wednesday 15 to Sunday 19 February 2023
• Wednesday 15, Thursday 16, Saturday 18 from 11am to 8pm Friday 17 from 11am to 10pm, Sunday 19 from 11am to 6pm
2, place Joffre – 75007 Paris
Subway : École Militaire – la Motte Piquet Grenelle
Bus : 28-69-80-86-87-92
RER : Champ de Mars – Tour Eiffel