"THE MAGIC OF THE RAKU" – Creators Gallery – Touques – Normandy – France
• Opening Saturday March 4th at 6pm
• March 3rd to April 23rd
The Galerie des Créateurs of Touques dedicates its brand new exhibition "The Magic of Raku" to the technique of raku firing. The result of a glazing and ceramic firing technique in 16th century Japan, contemporary raku is an adaptation of traditional methods.
This artistic event presents a selection of contemporary creations with a particular aesthetic that play on the density of the material and the surprising reflections. Between sculptures and utilitarian objects, a world where earth and fire express a Zen philosophy. Combining rigorous execution and infinite variations, each piece reveals the beauty of imperfection and controlled chance.
An immersion in the singular universe of 9 French artists and craftsmen.
The small living room, on the second floor of the gallery unveils a selection of about thirty ceramic sculptures in contemporary raku by Florence Lemiegre. Her "Culbutos, Culbutos Chamarrés and Serendipity" and "Moons of Seasons" invite you to a poetic journey that questions.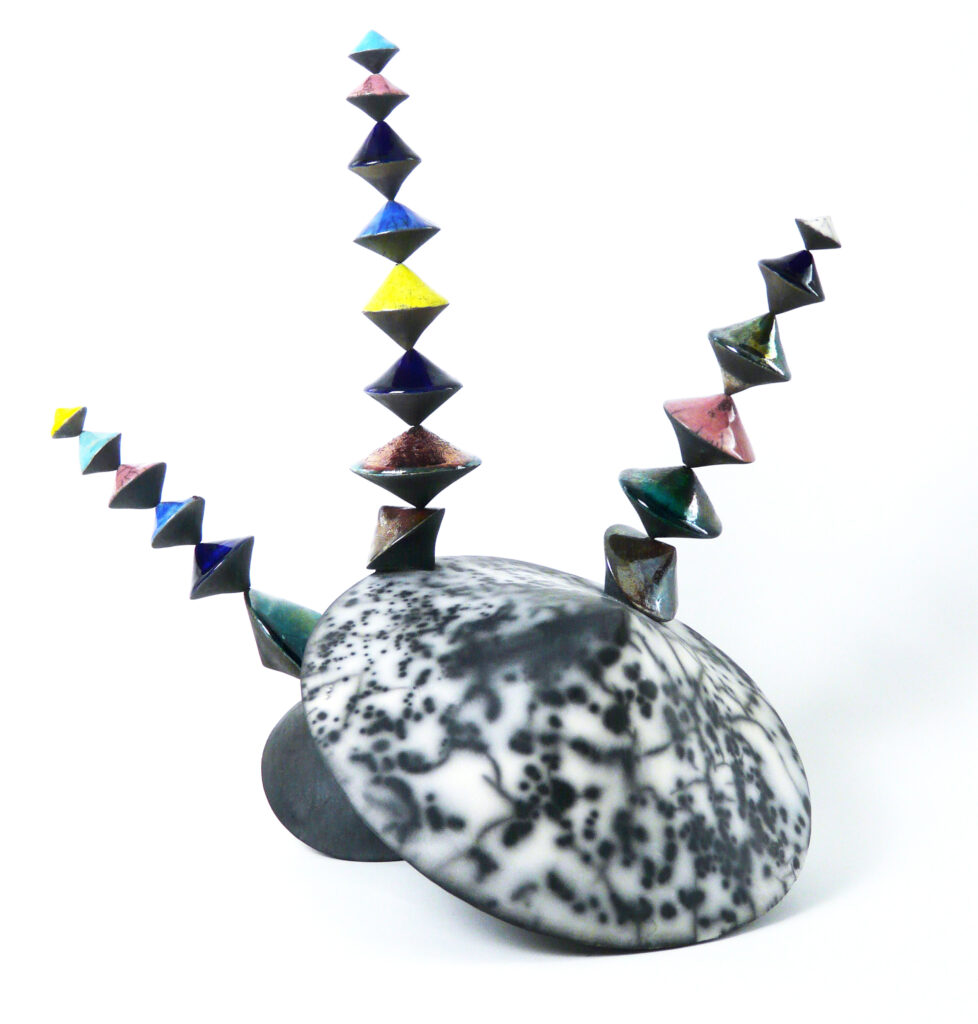 For more than twenty years, the magic of Raku has imposed itself to her as an evidence. From 1995 to 2017, it's with Olivier Oet, a great master of this discipline that she is initiated.
In the work of the artist everything is alive and inhabited. The technical mastery and the sublimation of the material are omnipresent. She builds a sensual and dreamlike world that speaks of balance or imbalance, desires, feelings, emotions, fears, fragile and ephemeral splendors.
A primary source of inspiration for the artist, raku firing creates emotion through its contrasting effects in a jubilant explosion of textures, cracks and colors.
A true shamanic act, it transfigures the artist's sensibility, and through her encounter with fire, reveals her in all her magnetism and depth. So, she draws you into her imagination, which she offers with prodigality and which, through this exhibition, chooses as a mode of expression the firing of raku, emblematic of a very ancient Asian culture linked to the Zen philosophy, whose meaning is: happiness in chance.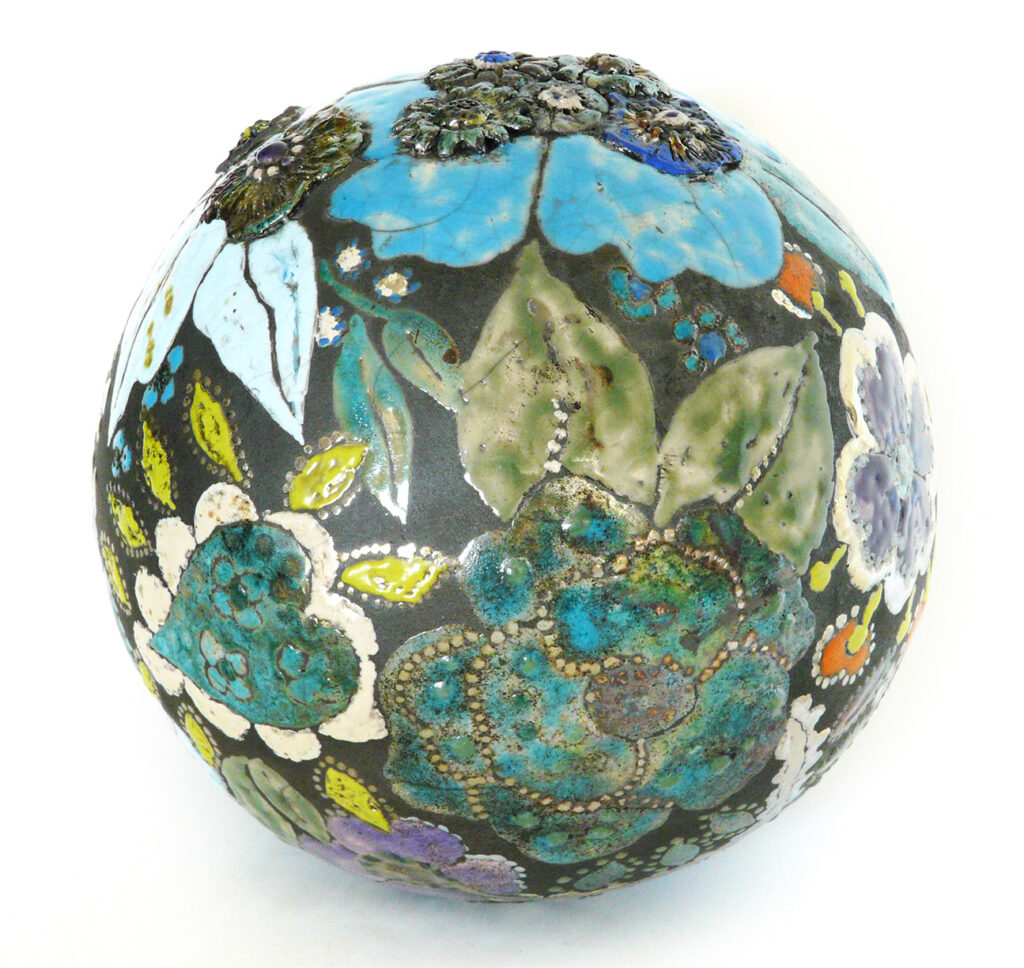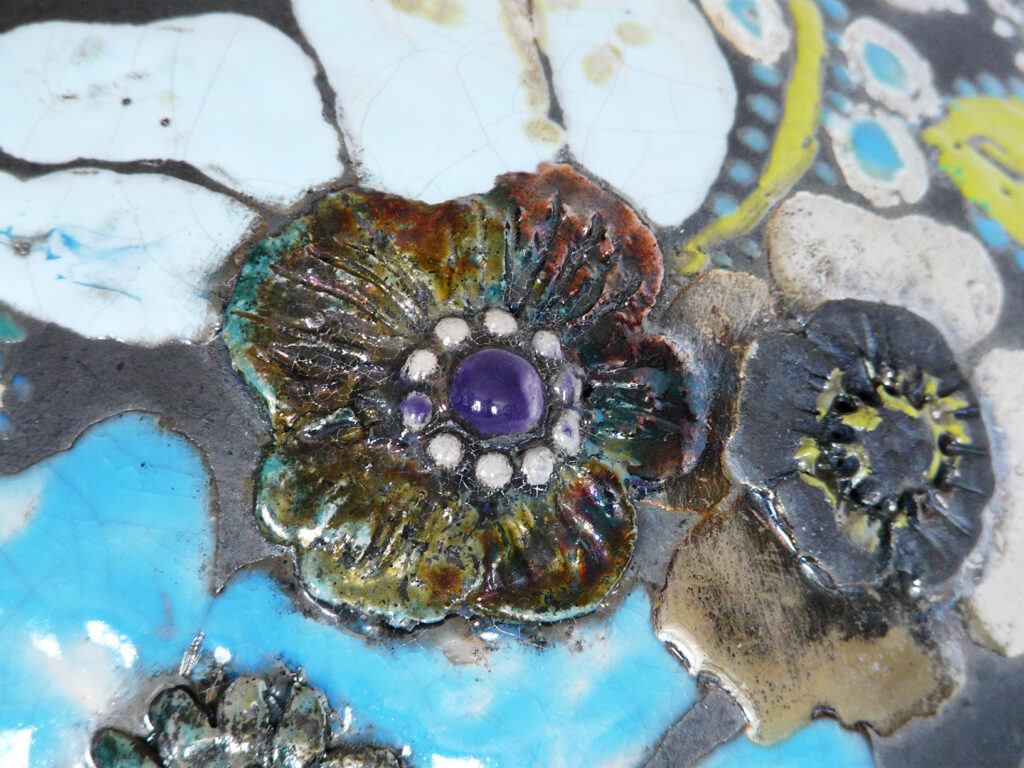 Today, Florence Lemiegre's creations in stoneware – contemporary raku – or in earthenware, are rewarded and exhibited in many galleries, biennials, fairs and contemporary art centers in France and abroad, notably in Brazil, Russia, Canada, Italy, Spain, Cyprus, Belgium, China and recently in South Korea.
A little history:
Raku from the Japanese raku-yaki 楽焼 is a technique of firing and glazing on cookie at low temperature. It originated in Korea and was developed and institutionalized in Japan by the 16th century.
Earth, air, fire and water are simultaneously expressed under the constraints of manufacturing through the process of raku firing. These natural parameters come into play in the creations, giving infinitely varying results and signing a unique object.
Over a hundred years ago, two potters, British ceramist Bernard Leach and his friend Shoji Hamada – one English, the other Japanese – embarked on a creative venture to unite the art and traditions of East and West. Together they established the Leach Pottery Foundation in St. Ives, England, which has become one of the world's largest and most influential craft workshops.
It was around 1968 that the West discovered the richness of different ceramic firing techniques, including Raku.
Today, Western Raku is established as an adaptation of traditional Asian techniques to contemporary art. Western versions developed through the accidental effects of firing have never been applied in Japan.
Place St Pierre
Parvis de l'Église St Pierre 14800 Touques/Deauville
Open Thursday and Friday: 3:00 pm – 6:30 pm
Saturday, Sunday, holidays: 11am-1pm/3pm-6:30pm